UK house price growth stagnates on back of Brexit concerns
Average price up by 0.1% – the smallest annual gain since February 2013, says Nationwide
Thu 31 Jan 2019 10.30 GMTFirst published on Thu 31 Jan 2019 09.25 GMT
The UK housing market has slowed since the Brexit vote in June 2016, when the annual house price growth measured by Nationwide was 5.1%. Photograph: Ben Birchall/PA
Annual house price growth almost ground to a halt in January as fears over Brexit deterred buyers, according to Britain's biggest building society.
Nationwide said the average price of a home rose 0.1% from a year earlier to £211,966 in January. This was the smallest annual gain since February 2013, when the rate was zero.
Property values were 0.3% higher in January compared with the previous month after a 0.7% monthly decline in December.
Samuel Tombs, the chief UK economist at Pantheon Macroeconomics, said it was possible annual prices would go into decline before long. "Increasing numbers of prospective house buyers likely will wait a few months for Brexit uncertainty to fade, forcing sellers to lower asking prices to attract braver buyers in the interim," he said. "As a result, year-over-year declines in house prices in the near-term should not be
Hansen Lu, a property economist at Capital Economics, predicted house prices would rise by 1% this year, assuming a Brexit deal was done. A no-deal Brexit would lead to flat prices or a gentle fall this year, but he said Britain would escape a house price crash.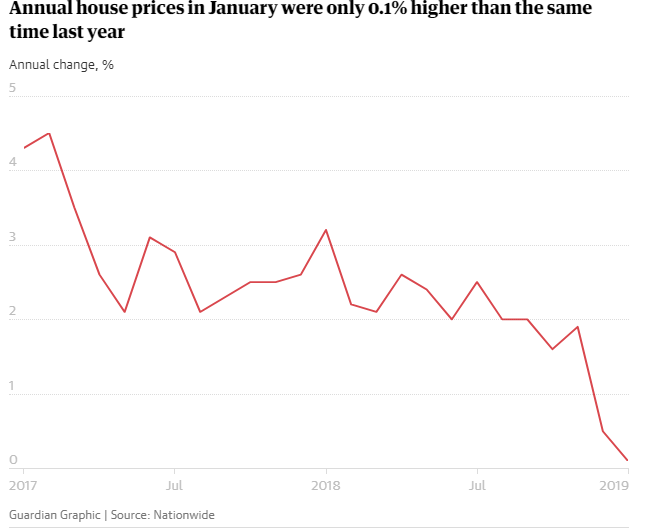 "Even if a deal were to be done soon, the market would still be held back by high house prices. And any economic upswing following a Brexit deal would come hand-in-hand with rising interest rates, which would also keep demand growth contained," Lu said.